Dr. Janosz Poha was the (former) secondary antagonist of Ghostbusters II. He was the right-hand man of Vigo after agreeing to help the evil spirit in his quest to be reborn, deciding that Dana's baby would make a perfect host as he was madly in love with her and quite liked the idea of being the adopted father of a "god".
Biography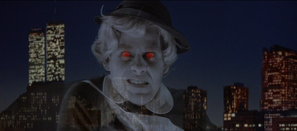 However Janosz was not prepared for the intervention of the Ghostbusters and in order to aid his master became possessed by Vigo, gaining supernatural powers but also losing a bit of his humanity in the process - although he was an antagonist throughout the movie it is worth noting that Janosz was never a truly evil individual, just very misguided and desperate - thus easily manipulated by more sinister beings such as Vigo.
Janosz was ultimately defeated by the Ghostbusters using a special device that reversed Vigo's "mood slime" via transforming the negative psychic energy into positive ones - this was really the only non-lethal way to deal with Janosz (since he was human) and worked very well as he became almost instantly reformed afterwards - his ultimate fate is unknown but it is safe to assume he resumed his role as a supervisor at the Manhattan Museum of Art.
Trivia
He was portrayed by Peter MacNicol, who later went on to play Fenwick in Recess: School's Out!.