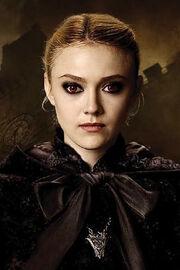 Jane
is one of the main antagonists of the
Twilight Saga
. She is a vampire and a high-ranking member of the
Volturi
guard. She is the twin sister of
Alec
, and together they are the Volturi's most powerful offensive weapons. Jane has the ability to inflict a mental illusion of burning pain.
History
Jane was born in England around 800 A.D, daughter of an Anglo-Saxon woman and a Frankish soldier. She was born a few minutes before her fraternal twin brother, Alec. Both Jane and Alec had strong psychic abilities that were evident even in their human state.
Aro was made aware of Jane and her brother through the thoughts of a visiting nomad. Aro had shown interest in Jane and her twin brother since they were toddlers, but decided to wait until they were old enough to turn them (the Volturi had already instated its rules about immortal children) so left them in the care of their parents. Their talents had not taken a focused shape at that point, but bad things happened to people who were unkind to the twins or their family, and good luck followed those who were friendly to them. Eventually, the superstitious locals found the twins too frightening to endure. They were accused as witches and condemned to be burned at the stake. Aro was apprised of the situation by a nomad who knew of Aro's interest in the twins. Aro hurried to the village, arriving just in time to interrupt the execution. Transformed at the age of about 12 or 13, they are the smallest and youngest in appearance, as well as the most prized members of the guard due to their incredibly powerful gifts. It is said that they are the cornerstone of the Volturi's offensive abilities.
Due to the pain Jane experienced during her burning at the stake and the anger she felt towards the villagers, after her transformation from human to vampire she gained the supernatural talent of inflicting the mental illusion of pain on others (the illusion of burning). Jane has since become one of the most prized members of the Volturi Guard. It is unknown whether or not Jane's human name was 'Jane' as well, but the chances are high that it was. Her and Alec's surname remains unknown.
Notes