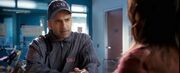 Animal Control Officer Jake (ACO Jake for short) is one of the two main antagonists the 2009 Nickelodeon movie Hotel for Dogs and a cruel, cold-hearted animal pound worker. He shares similarities with his partner Max. He is portrayed by Ajay Naidu.
Role in Movie
ACO Jake works in the local pound in New York city. He hates dogs and people who own them. The movie's main protagonists Bruce, Andi and their friends begin spoiling their attempts to capture every dog in the city and take them in at an old hotel. His hatred to animals becomes clear when he refers to them as "mangy strays". However when the kid's social worker Bernie Wilkins delivers a heartfelt speech about the kid's work with the dogs, the police allow the kids to keep them in the hotel and Max and Jake are both arrested for their animal cruelty. The pound is shut down and the hotel is opened as an official hotel for dogs.
Trivia
Jake's character is very similar to Chuck Muckle from Hoot. Both characters do not like animals and try to kill them.
His real name is presumably Jacob.