This article's content is marked as Mature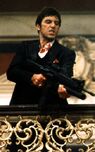 The page Jake (Fresh) contains mature content that may include coarse language, sexual references, and/or graphic violent images which may be disturbing to some. Mature pages are recommended for those who are 18 years of age and older.
If you are 18 years or older or are comfortable with graphic material, you are free to view this page. Otherwise, you should close this page and
view another page
.
Jake is a malicious, unpleasant, bad-tempered, argumentative, and confrontational drug dealer, and most importantly, serial murderer in the 1994 crime film, Fresh. He is also oversexed (as Fresh tells to one of the junkies, saying, "Jake ain't down with them ugly bitches like you," if I remember correctly).
He was portrayed by Jean LaMarre (also known as Jean-Claude La Marre).
Jake is a man who will not think twice about killing someone for the most absurd of reasons. He's clearly unhappy, angry, mean. In the beginning he threatens he delivers what is perhaps the most bizarre uncomfortable and bone-chilling rants in the movie - threatening to kill a guy for not giving him the $50 he owes...
Jake: "Oh you don't think so? You don't think so?" (to Red), "Well let me tell you something? Nigga don't show up with my money, I'm gonna dead him"
Red: "I'm your boy man, why you beefing with me?"
Jake: "Yeah, I'MA GREASE THAT MOTHAF*CKA LIKE SUNDAY BACON! YOU HEAR ME MOTHAF*CKA? I'MA GO DROP THAT MOTHAF*CKA! I'MA DROP HIM, MAN! I'MA GO DROP HIM!"
Perhaps the most bone-chilling act by Jake is during a basketball game in which he shoots Curtis, the boy he was playing against, without mercy. Later on, it's implied that he orders a mugging which ends in, again, another bizarre bone-chilling attack on Fresh and Chuckie, in which Chuckie is murdered (the memorable thing about the scene is Jake and his gang are in the shadows during this scene, which is set at night). Aside from the bizarre killings, he's just horrible to all he knows altogether. He even betrays Fresh, as you can hear him, right before he kidnaps him, saying of Fresh, "I gotta wait all day for this motherfucker?" He even brags about how he got Fresh in trouble with Corky. In many ways he's a darker, more evil version of James from Straight Outta Brooklyn.
Trivia
He was listed on the 100 Top Movie Villains on files.meetup.com.