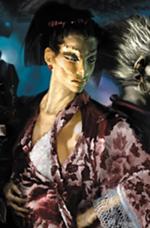 Jakan is a recurring antagonist in the New Jedi Order. The father of Elan, Jakan was Supreme Overlord Shimrra's official religious advisor. Along with High Priest Harrar and Warmaster Nas Choka, Jakan is among the few recurring Yuuzhan Vong characters to survive to end of the series. Throughout the series, Jakan repeatedly urges Shimrra to eliminate the Jeedai heresy, which had rose in prominence after Prophet Yu'shaa gained power.
In the final novel The Unifying Force, Jakan, along with High Prefect Drathul and Master Shaper Qelah Kwaad, tried to sacrifice Jedi Knight Leia Organa Solo, her husband Han Solo, and Harrar to the World Brain. His plan was foiled by a mob of heretics and renegade warriors, led by Prefect Nom Anor, the alter ego of Yu'shaa. In the closing chapters, Jakan joins the other Yuuzhan Vong in peaceful exile on Zonama Sekot.
Ad blocker interference detected!
Wikia is a free-to-use site that makes money from advertising. We have a modified experience for viewers using ad blockers

Wikia is not accessible if you've made further modifications. Remove the custom ad blocker rule(s) and the page will load as expected.