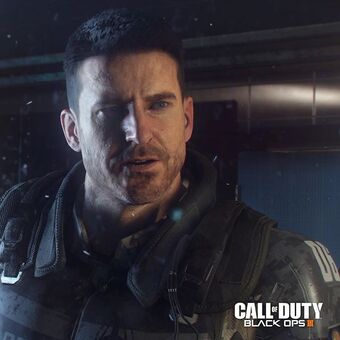 Jacob Hendricks
is the deuteragonist and one of the three main antagonists of 
Call of Duty: Black Ops 3.
Hendricks was a member of the international treaty organization known as the Winslow Accord. He was the CO and friend of the main protagonist and a former friend of John Taylor.
Black Ops 3
After leaving Singapore from a mission, he started to gradually lose his sanity, revealed to be caused by Corvus, an A.I. created from a glitch in the Direct Neural Interface (DNI) system. After Taylor ripped out his DNI, Hendricks succumbed to Corvus' influence and killed Taylor. He then proceeded to Zurich to interrogate Sebastian Krueger, and later killed him, causing the player to kill Hendricks right after.
He returns in the "Frozen Forest" (supposedly after the protagonist commits suicide) to try and convince his former friend to side with Corvus. This didn't work, and Hendricks was seen again with Corvus and Krueger. Hendricks later told his former friend that he/she was following a path that he can no longer follow. Hendricks was not seen anymore after this.
Ad blocker interference detected!
Wikia is a free-to-use site that makes money from advertising. We have a modified experience for viewers using ad blockers

Wikia is not accessible if you've made further modifications. Remove the custom ad blocker rule(s) and the page will load as expected.