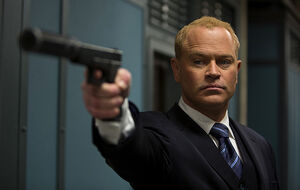 Jack Horton is the secondary main antagonist of Red 2. He is a corrupt CIA agent who tried to frame Frank Moses for project Nightsade and hired Han Cho-Bai and Victoria to kill Moses, also convincing people that Frank and his team were terrorists. His goal was to obtain the Nightshade nuclear bomb; to do this, he made a deal with Edward Bailey, the man who made the bomb, but reneged on his deal and captured him.
However, Bailey used a nerve gas to kill Horton's team, administering an antidote to both himself and Horton. After mentioning how he lost his family to people like Horton, Bailey slashed Horton with a knife, killing him.
Trivia
He was portrayed by Neal McDonough.
Ad blocker interference detected!
Wikia is a free-to-use site that makes money from advertising. We have a modified experience for viewers using ad blockers

Wikia is not accessible if you've made further modifications. Remove the custom ad blocker rule(s) and the page will load as expected.