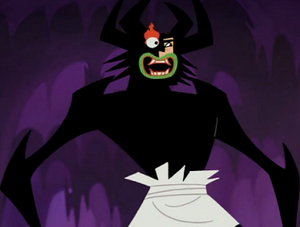 Jack-Aku
is Samurai Jack infected with
Aku
's pure evil.
History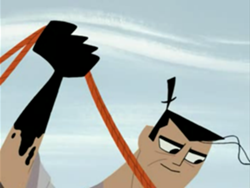 Jack-Aku was walking on a snowy mountain unlike the mountain in Episode XX: Jack and The Three Monks, looking to find the portal. While the Jack half wishes to use it, the Aku half wishes to destroy it.
Personality
The part of him that is Jack is a bit scared and wants to find help, but the part that is Aku is greedy and wants to destroy everything. Due to being a mix of Jack and Aku, he constantly switches between being nice and mean.
Videos
Trivia
Jack-Aku is similar to Two-Face, in how there are 2 sides: the first being good, charismatic and mild-mannered, and the second being evil, greedy and demanding. They resemble each other as well, his first half of his body being human, and the other half being a monster.