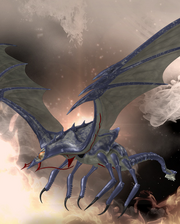 Jabberwock
is Rinko's inner Phantom which tries to makes its way to the real world by smashing the Gate's Underworld. However, Kamen Rider Wizard quickly counters it via mounting onto
WizarDragon
and takes the fight into the air, eventually destroying it with a Slash Strike attack.
Profile
Episodes: 1
Destroyed by: Kamen Rider Wizard Flame Style's Flame Slash Strike
Mythological Basis: The Jabberwock
Height:14.3 m
Weight:460 kg
Ad blocker interference detected!
Wikia is a free-to-use site that makes money from advertising. We have a modified experience for viewers using ad blockers

Wikia is not accessible if you've made further modifications. Remove the custom ad blocker rule(s) and the page will load as expected.