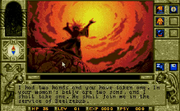 Ixona
is the chief antagonist of the horror-based game
Waxworks.
She is a Gypsy witch who set in motion the events of the game via placing a terrible curse on the protagonist's family long ago as vengeance for her hand being cut off during a vigilante-style punishment for stealing. Her curse was that, every time the family had twin brothers, one would be given to Beelzebub and become evil and kill innocent people, and the other would be good and help people.

In order to defeat Ixona, the last good twin must travel across time using magical waxwork displays and in the process undo the evils of his ancestors (collectively known as the evil brothers). After successfully defeating all the evil brothers, the last good twin returns to the current era and is bestowed a gift from his uncle in the form of relics related to his vanquished foes.

With all the relics, the good twin sets out to finally end the centuries-long curse. The amulet formerly worn by the High Priest of Anubis granting him protection for Ixona's evil spells, the veil of the Evil One being used to confuse her, Jack the Ripper's knife being used to stab her in the neck and Vladimir's ring being used to return to the present.

Finally, the good twin returns to the current era and revives his brother Alex. With the Ixona's death, the curse has been broken and thus Alex is saved from becoming an evil brother. In addition, all evils committed by the evil twins have been erased as time has been altered as a result of the last good twins actions.