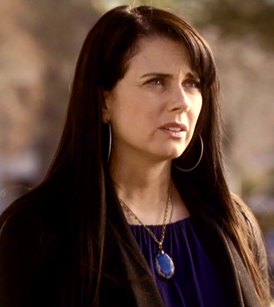 Isobel Flemming 
is a villain in the first season of 
The Vampire Diaries
. She is the biological mother of protagonist Elena Gilbert and the wife of
Alaric Saltzman
, as well as a descendant of Katherine Pierce.
She was good friends with her ancestor Katherine Pierce, a vampire whom she often conspired with. When Isobel was still in high school, she met John Gilbert and became pregnant with Elena. Isobel absconded a few days after Elena's birth, and John Gilbert's brother Grayson and his wife Miranda adopted Elena. Many years later, Isobel met Alaric Saltzman. At first, she did not like him and even had a restraining order against him, but later she changed her mind and they got married. While Isobel was still married to Alaric, she became obsessed with paranormal research. She met a vampire, Damon Salvatore, who turned her into a vampire at her request. After being compelled by Klaus, she committed suicide by walking into the sun while her daughter Elena watched helplessly.
Isobel was a member of the Petrova Family and a relative of the Gilbert Family.