Ad blocker interference detected!
Wikia is a free-to-use site that makes money from advertising. We have a modified experience for viewers using ad blockers

Wikia is not accessible if you've made further modifications. Remove the custom ad blocker rule(s) and the page will load as expected.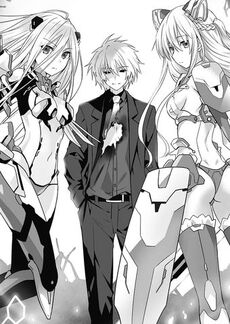 Isaac Westcott's Elite 
or 
Isaac Westcott's Elites
and 
Deus.Ex.Machina Adeptus
are a DEM Wizard Elite Squad and a group of powerful fighters who were the strongest of Isaac's army. Almost all of Isaac's known elites were wiped out during the Volume 5 until Volume 13, including in the games. They all work under the 
Deus.Ex.Machina Industries
.
The Elites took part in many battles, as they were the strongest minions of Westcott. They were some of the few minions of Isaac Westcott that he actually remembered the names of, or at least people who were important to Isaac's goal.
Members
Lower Elites
Adeptus 4
Adepetus 5
Adepetus 6
Adepetus 7
Adepetus 8
Adepetus 9
Adepetus 10
Adepetus 11
Adepetus 12
Members Gallery