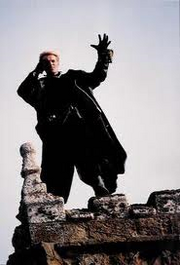 | | | |
| --- | --- | --- |
| " | (Eagle/dinosaur noises) I like it! | " |
| | ~ The Interceptor's catchphrase(s), upon winning the show/finding a contestant/creeping up on them/shooting at them. | |
The Interceptor is the main antagonist from the cult 1989 game show Interceptor. He is the major force in scuppering the contestants' attempts to get the £1,000 prize money, and will stop at nothing to make sure the contestants leave empty-handed.
He was portrayed by Sean O'Kane.
Role
The Interceptor is a very tall and athletic Scotsman, who serves as the baddie in the game show. After the contestants have been separated, told of the rules and everything else, their 40-minute time limit is started. So does his hunt for them. He is flown around in a helicopter and frequently zaps at the contestants and their briefcases (one of which contains the £1,000 prize money; the other simply holds some weights to simulate the money, but is empty). The Interceptor also pursues his prey on foot, but can, like them, hijack a way to get around (despite his personal arsenal).
Each of the contestants was given a white briefcase, with five infrared targets on the back (one in each corner, and the fifth one in the middle). If Interceptor shot them all, the briefcase would deadbolt; if the briefcase with the money was shot by Interceptor, the contestants lost.
Trivia
The Interceptor's fleet consists of a yellow and black Agusta A109 (with registration number G-MEAN and piloted by his long-suffering henchman, Mikey), a black Maserati Biturbo Spider sports car (with registration number INT 1), a black Kawasaki ZX10 motorcycle (with registration INT 2) and a (hypothetical) hovercraft.
Although never actually stated in the show, Interceptor's gun (an infrared laser type attached to his left forearm, a technology developed by the British Army) only had 20 shots (editing and a fast plot made it seem otherwise). Moreover, the gun had a digital readout to show how many shots he had left. Furthermore, the gun didn't actually make any noise; the zap effects were added post-filming.
The Interceptor also had a big house, sometimes shown at the beginning of an episode.