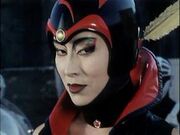 The sorceress of the State from a noble family outside the Crisisians with feelings for Jark. She uses the yellow feather on her helmet as a weapon or to send messages, along with using a laser whip and breathe fire. She cares for her comrades, displaying it when Lord Crisis' living heir Garonia dies in a freak accident on their watch and she attempts to cover it up by kidnaping Hitomi to take her place. Though Jark learned the truth, he allows Maribaron to take the girl to the Miraculous Valley to complete her plan. But when Kotaro saves Hitomi, Maribaron is advised by Jark to make a false report that the princess was killed by RX. When Granzyrus arrives, Maribaron revived the spirits of 10 soldiers Kotaro killed to finish off the other riders. She was eventually shocked to learn that Dasmader was Grand Lord Crisis' mobile body. She was killed by Crisis when she objected on his decision to have RX join them.
Powers
Ad blocker interference detected!
Wikia is a free-to-use site that makes money from advertising. We have a modified experience for viewers using ad blockers

Wikia is not accessible if you've made further modifications. Remove the custom ad blocker rule(s) and the page will load as expected.