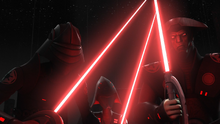 The Inquisitorius was a group of Force-sensitives, individually known as Inquisitors and sometimes called "Red-blades" or dismissively "Mystics" by Imperial officers, who were recruited by the Galactic Empire to hunt down the Jedi who survived Order 66 and any other Force-sensitive children. Originally, only one Inquisitor, the leader of the faction, was dispatched to hunt down the Jedi on Lothal. However, after his death, Darth Vader dispatched two new Inquisitors: the Fifth Brother and the Seventh Sister. Vader also sent the Eighth Brother to hunt down the former Sith Lord, Maul. Both the Fifth Brother and Seventh Sister were killed by Maul on Malachor while the Eighth Brother fell to his death from atop of the Malachor Sith Temple.

Ad blocker interference detected!
Wikia is a free-to-use site that makes money from advertising. We have a modified experience for viewers using ad blockers

Wikia is not accessible if you've made further modifications. Remove the custom ad blocker rule(s) and the page will load as expected.