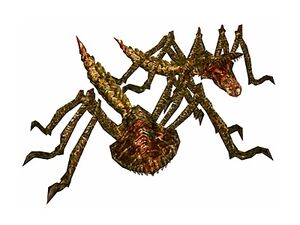 The Infestants are parasitic demons that served as enemies in Devil May Cry 2.
These ectoplasmic devils has the ability to merge into not only demons, but also into inanimate beings and objects such as machines. They always search for a suitable host to merge and control.
Appearance
The Infestants appeared as insect-like creatures with one bulging eye-like orb on their forehead, 6 spider-like legs and a scorpion-like tail.
Powers and Abilities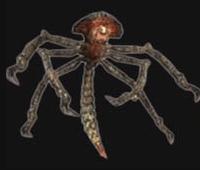 The Infestants are parasites with an ability to drain energy from their living victims within close range.
They also have the ability to fused and possessed machines. Since they can only do that with inorganic beings and objects, they most likely can never infest living beings or powerful entities, as the Infestants cannot infest the players, merely damage them. This implies that it is easier for them to take over something with no life, and/or the Infestants have a certain level of knowledge regarding the weapons and machines from the Human World. This is not at all impossible since the low class demons are the ones who inhabit the and invading the Earth the most within the Devil May Cry series.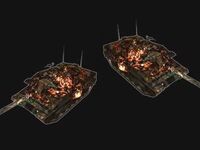 The most well known machines that were easily infested and possessed by the Infestants are the
military tanks
and a
helicopter
.
Devil May Cry 2
The infestants have infesting and possessing some certain machines since the founding of Uroboros City on Dumary Island years ago.
Dante the devil hunter and Lucia of the Vie de Marli clan confronted these creatures and the possessed vehicles they controlled on their way towards the Uroboros main headquarters, Skyscraper Sanctum, implying also that their possession of machines is also the work of Arius, since these military vehicles are already owned by his company to secure their facilities and projects, and even defend his "city" on Dumary Island.
Gallery
Ad blocker interference detected!
Wikia is a free-to-use site that makes money from advertising. We have a modified experience for viewers using ad blockers

Wikia is not accessible if you've made further modifications. Remove the custom ad blocker rule(s) and the page will load as expected.