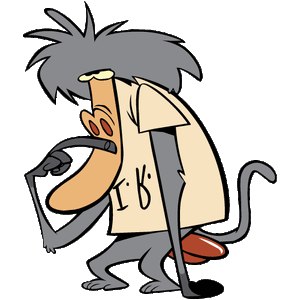 | | | |
| --- | --- | --- |
| " | "I.R. checkmate on I.R.! I.R beat I.R.! I.R. beat I.R.! I.R beat I.R.!" | " |
| | ~ - I.R Baboon | |
I.R. Baboon is the archenemy of Weasel and often acts as the antagonist of the show "I Am Weasel", although he is not normally a malicious individual - instead he is a very unintelligent individual prone to bursts of bad temper and jealousy: he is determined to prove to the world (and possibly himself) that anything Weasel can do he can do better but as a result of his own stupidity or sheer bad luck his schemes backfire and can cause untold chaos.

Despite being a running nemesis of Weasel for the first two series I.R. Baboon was replaced somewhat as the main villain by The Red Guy from Cow and Chicken (the series "sister" show) - though Red Guy would often use I.R. Baboon's own stupidity and bad temper to cause mischief.