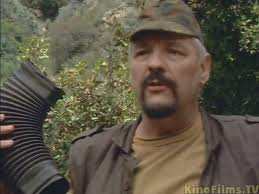 Hutch Flynn is the main antagonist of the 1999 movie One Small Hero. He is a bruttish thug who seeks to get his older brother released from prison for armed robbery by capturing a group of kids and holding them for ransom. The reason for picking the specific group is because of one of the kids being Sarah Mann, the daughter of the state's senator. Her love interest and friend Joey Cooper sets out to rescue her and the other kids. Hutch is helped out by his reluctant and cowardly brother Baby.
He is played by Robert Schuch.
Ad blocker interference detected!
Wikia is a free-to-use site that makes money from advertising. We have a modified experience for viewers using ad blockers

Wikia is not accessible if you've made further modifications. Remove the custom ad blocker rule(s) and the page will load as expected.