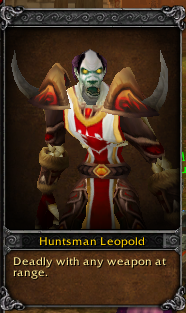 Huntsman Leopold is a member of the corrupted Scarlet Crusade in World of Warcraft and was transformed into an undead monster following the events of Cataclysm.
Found at the top of the fortress in Tyr's Hand this infamous hunter had successfully slain half a dozen of Crusade Commander Korfax's men and Korfax knew instantly it was Leopold as the hunter's fame preceeded him.
Thus Korfax sends player-characters to defeat the deadly Huntsman and end his murderous ways.
Ad blocker interference detected!
Wikia is a free-to-use site that makes money from advertising. We have a modified experience for viewers using ad blockers

Wikia is not accessible if you've made further modifications. Remove the custom ad blocker rule(s) and the page will load as expected.