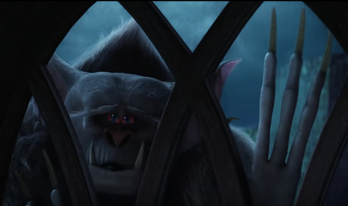 Humans are one of the main antagonists in the animated movie Once Upon A Forest, and they have many different appearances.
The first and only truly bad human that appears is a drunk driver who throws a glass bottle out of his car.  
The next human to show up in the story is a tanker truck driver who hits the broken bottle, causing deadly chlorine gas to spill over the forest and kill everything it touches.   Through the course of the movie, the characters encounter "yellow dragons", which are actually construction vehicles.  
In the end, the humans make an effort to clean up after the gas leak and rescue sick or wounded animals left in its wake.
Trivia
Gallery
Ad blocker interference detected!
Wikia is a free-to-use site that makes money from advertising. We have a modified experience for viewers using ad blockers

Wikia is not accessible if you've made further modifications. Remove the custom ad blocker rule(s) and the page will load as expected.