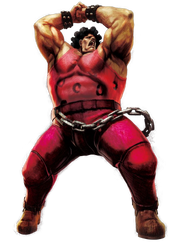 Hugo is the main recurring antagonist of the 2011 animated television series Bob's Burgers on Fox. He is a Health Inspector who tries to put Bob Bletcher's burger joint out of buissness, once for suspicion of a rumor that Bob was serving human flesh in his food from the crematorium that happens to be next door to the restaurant.
Hugo once was in a relationship with Bob's wife, Linda. She left Hugo for Bob.
Hugo's voice is provided by voice actor Sam Seder.
External links