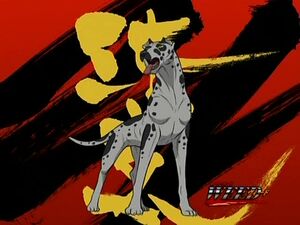 Hougen
is the main antagonist of
Ginga Densetsu Weed
. He is a rogue boss dog in the Southern Alps. His ears are cut short for past dog fights (cut ears are used so that the competitors could not pull the dog down by their ears). He took the injured Gin captive and intended to take over Futago Pass using Gin as a trump card. In the past, he and his brother
Genba
were man-eaters, and cannibals as well, devouring their comrades one by one when they were left in a shed by a careless breeder. When he came back, they devoured him as well. It is said this is the direct cause of his cruelty. In episode 26, Weed and Hougen battle for Ohu, and Weed got killed. However, he is resurrected after encouragement from the spirits of his dead friends, and the young dog succeeds in gravely wounding Hougen. As Hougen lies in the snow, Gin and the other dogs move forward to finish him off, but are stopped by Weed, who passionately tells them that if they cannot forgive their enemies, the war will never end. Hougen uses this opportunity to climb to the top of Gajou, screaming down at the dogs that he will kill them yet. As he gloats, he is struck by a bolt of lightning and killed instantly.
Ad blocker interference detected!
Wikia is a free-to-use site that makes money from advertising. We have a modified experience for viewers using ad blockers

Wikia is not accessible if you've made further modifications. Remove the custom ad blocker rule(s) and the page will load as expected.