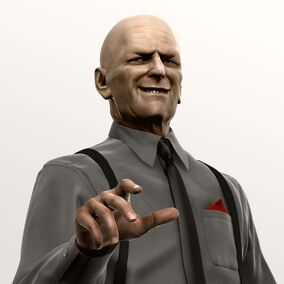 Hot Coldman is one of the main antagonists of Metal Gear Solid: Peace Walker (along with Ramon Galvez Mena and Paz Ortega Andrade).
Biography
Hot Coldman is depicted as a former director of the CIA. Because of bitterness over the demotion, Coldman plans to use the Peace Sentinels and the Peace Walker Project to regain his status as a power player in Washington. He admits to Naked Snake that he planned Operation Snake Eater and implies that this was the reason why he ended up demoted as head of the CIA Latin America station. Late in the game, Coldman dies of Zadornov's gunshots, after inputting Peace Walker's nuclear launch codes and leaking the false data to NORAD.
Ad blocker interference detected!
Wikia is a free-to-use site that makes money from advertising. We have a modified experience for viewers using ad blockers

Wikia is not accessible if you've made further modifications. Remove the custom ad blocker rule(s) and the page will load as expected.