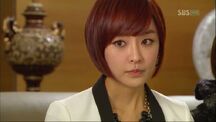 Hong Se-na/Hong Hwayong
is the female villain of
Rooftop Prince
and is the stepsister (who turn be real sister) of Park-Ha.
History
When she and her stepsister were younger, she would despise her so much that she would get Park Ha into trouble. When her parents are off at work, she leaves her little sister in a truck as she slept. When the truck begins to move, Se-na does little to stop it, and Park Ha is never heard of again. In present day, Park Ha returns to Korea from the U.S. for her father's funeral. Se-na is jealous of her because Park-ha was her
father's favorite, and because her mother and Park-ha become close enough again to be like mother and daughter. Se-na steals money, and also tried to steal Yi Gak, a prince from the Joseon era who is a doppelganger of the dead Taeyong, from Park Ha a few times, along with Yoon Tae-moo, Taeyong's cousin, in greediness. As Hwayong in Joseon Korea, she thought she was to become heiress to the throne by marriage to Yi Gak. She uses her greed for power and even plots to kill the prince. Later, she is exposed of her plans and is exiled. In present day, her lover was Tae-moo, who attempted to kill Park Ha with his car. In the end, Se-na realizes her mistakes and gives a liver transplant to her stepsister with help of Yi-Gak. She apologizes to Park Ha for what she did to her.
Gallery