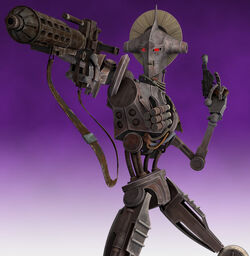 Highsinger was an assassin droid in the Star Wars Universe.
Biography
A heavily modified assassin droid of unknown origin, C-21 Highsinger is presumably the only one of his kind. Serving no master, his autonomous programming is well suited to a bounty hunter career. Most vicious among his capabilities is a rotator assembly that spins his upper torso at high speed, allowing him to unleash his blasters in a devastating circle of laser fire.
His servomotors are optimized for swift reflexes, giving him proficiency in movement and hand-to-hand combat. On the planet Quarzite, during the Clone Wars, he dispatches many Kage warriors in combat on a subtrain; he is only stopped when they propelled him overboard.