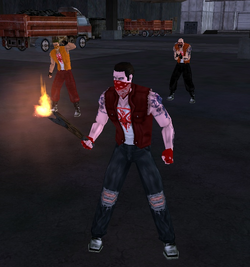 Hellions
are a street-gang from City Of Heroes who at first glance appear to be typical malefactors engaging in anarchic lifestyles - however on closer inspection the Hellions are revealed to be a much more troubling entity: namely demon-worshippers, high-ranking Hellions have even managed to gain demonic abilities via embracing the darkness and the gang are often seen committing arson: in fact setting fires seems to be a major part of being a Hellion and they enjoy seeing things burn (which suggests that as well as being demon-worshippers many of them are also pyromaniacs).

Hellions also regularly engage in fights with rival street-gangs such as the Skulls and are one of the more numerous and easily defeated opponents a low-level hero or villain will face, though their leaders can be more of a challenge.
Ad blocker interference detected!
Wikia is a free-to-use site that makes money from advertising. We have a modified experience for viewers using ad blockers

Wikia is not accessible if you've made further modifications. Remove the custom ad blocker rule(s) and the page will load as expected.