The Heartless are beings composed entirely of darkness, born when a Heart is consumed by it and they are the recurring major antagonists in the Kingdom Hearts videogame series. Pureblood Heartless are natural creatures that balance out the Light within the world, however Emblem Heartless are unnatural and throw the worlds into chaos as they actively seek to destroy the Light.
Origins
The Heartless are born from pure Darkness itself. When a heart is stolen or consumed with hate, the darkness inside it consumes the heart, forming a Heartless. The body and soul then form what is called a Nobody, if the consumed person's will is strong enough. There are two types of Heartless in the series; Pureblood Heartless, which are born directly from hearts, and Emblem Heartless, which are born from a machine that collects darkness and can artificially recreate the heart-stealing process.
Ansem's Studies
Ansem the Wise, ruler of Radiant Garden, studied the Heartless.
Ansem's Reports
The Ansem Reports can be collected by Sora throughout the games. They were written by Ansem and contain information on the Heartless. In Kingdom Hearts II, they also contain information on Organization XIII.
In the manga, Sora once turned into a Heartless until his friends change him back to normal.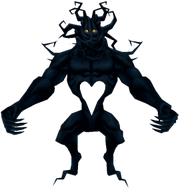 Ansem's six apprentices aided in the study of the heart, these being Ienzo, Even, Braig, Dilan, Aeleus, and lastly Xehanort. After Ansem was exiled by Xehanort, Xehanort took his former master's name and lead the other apprentices in deeper studies of the heart. This lead to him corrupting the others and releasing their hearts, thus all the apprentices became separated between their Heartless, and their Nobodies, which formed the group Organization XIII. It was Xehanort who also, while disguised as Ansem and as the Seeker of Darkness, designed the Heartless Machine that manufactured Heartless.
Types
Pureblood Heartless
Emblem Heartless
Special Heartless
Gummi Heartless
Other Heartless
Gallery