Ad blocker interference detected!
Wikia is a free-to-use site that makes money from advertising. We have a modified experience for viewers using ad blockers

Wikia is not accessible if you've made further modifications. Remove the custom ad blocker rule(s) and the page will load as expected.

The Heartless are beings composed entirely of darkness, born when a Heart is consumed by it and they are the recurring major antagonists in the Kingdom Hearts videogame series. Pureblood Heartless are natural creatures that balance out the Light within the world, however Emblem Heartless are unnatural and throw the worlds into chaos as they actively seek to destroy the Light.
Origins
The Heartless are born from pure Darkness itself. When a heart is stolen or consumed with hate, the darkness inside it consumes the heart, forming a Heartless. The body and soul then form what is called a Nobody, if the consumed person's will is strong enough. There are two types of Heartless in the series; Pureblood Heartless, which are born directly from hearts, and Emblem Heartless, which are born from a machine that collects darkness and can artificially recreate the heart-stealing process.
Ansem's Studies
Ansem the Wise, ruler of Radiant Garden, studied the Heartless.
Ansem's Reports
The Ansem Reports can be collected by Sora throughout the games. They were written by Ansem and contain information on the Heartless. In Kingdom Hearts II, they also contain information on Organization XIII.
In the manga, Sora once turned into a Heartless until his friends change him back to normal.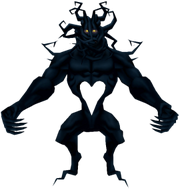 Ansem's six apprentices aided in the study of the heart, these being Ienzo, Even,
Braig
, Dilan, Aeleus, and lastly Xehanort. After Ansem was exiled by Xehanort, Xehanort took his former master's name and lead the other apprentices in deeper studies of the heart. This lead to him corrupting the others and releasing their hearts, thus all the apprentices became separated between their Heartless, and their Nobodies, which formed the group Organization XIII. It was Xehanort who also, while disguised as Ansem and as the
Seeker of Darkness
, designed the Heartless Machine that manufactured Heartless.
Types
Heartless in italics appears only in the Final Mix or Re: versions of the games.
Heartless in bold are bosses
Pureblood Heartless
Gift Shadow
Lion Dancer
Candy Apple
Poison Apple
Flower Rider
Rodeo Rider
Wayward Wardrobe's branchees Heartless
Wayward Wardrobe's high-heeled boot Heartless
Wayward Wardrobe's skirt Heartless
Gargoyle Warrior
Chocolate Statue
White Chocolate Statue
Massive Possessor
Cloud Sunrise
Cherry Possessor
Sora's Heartless: Offshoots
Sora's Heartless: True Form
Darkside Ω
Sora's Heartless: Neo Darkside
Emblem Heartless
Commander
Pumpkin Soldier
Fat Bandit
Large Snowman
Rowdy Master
Yellow Opera
Green Requiem
Black Ballade
Silver Rock
Emerald Blues
Emerald Serenade
Violet Waltz
Large Watermelon
Huge Watermelon
Large Fireworks
Huge Fireworks
Jack-O'-Lantern
Round Rice Cake
Large Round Rice Cake
Bitter Macaron
Tower Macaron
Swaying Spook
Wavering Spook
Emerald Sonata
Red Bandit
Common Soldier
Poison Plant
Dark Plant
Creep Bouquet
Prank Bouquet
Red Rose
White Rose
Tornado Step
Wicked Tomte
Egg Stealer
Trick Ghost
Bully Dog
Rage Reindeer
Rush Sheep
Detonator
Eggcognito
Escapade Egg
Shenaneggan
Huge Shenaneggan
Growth Egg
Munny Egg
Prize Egg
Rapid Thruster
Gummi Copter
Copter Fleet
Scorching Sphere
Gummi Hammer
Bag O' Coal
Present Bag
Dark Score Bag
Wibble Wobble
Strange Tree
Juggler Tower
Armored Archer
Chomper Egg
Wind-up Leaf Cake
Pretender
Great Pretender
King Pretender
Nimble Bee
Stinging Bee
Circus Balloon
Cannon Camel
Burst Balloon
Trouble Candle
Guard Armor Ω
Cruel Sweets
White Returner
Trickmaster Ω
Jack-in-the-box
Egg Master
Lion Dance Headliner
Trident Tail
Trident Tail Ω
Red Trident Tail
Green Trident Tail
Blue Trident Tail
Submarine Carp
Savage Spider
Venomous Spider
Enraged Arachnid
Bane Spider
Malice Spider
Wicked Spider
Gummi Hound
Fortress Crab
Fortress Crab Ω
Circus Fortress
Furious Whole Cake
Queen Bee
Queen Bee Ω
Jewel Sorceress
Wayward Wardrobe
Special Heartless
Gummi Heartless
Other Heartless
Clayton - is stated to have "no heart" by Tarzan.
Cave of Wonders - is taken control of by Heartless.
Oogie's Manor - is controlled by Shadow Globs.
Scar - is stated to be a Heartless by Pete
Scar's Ghost - ghost of a Heartless
The Experiment - is said to be an artificial Heartless, and also said to be a Heartless in the Kingdom Hearts Trading Card Game.
Gallery