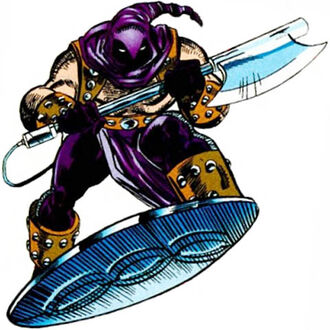 The Headsman is a Marvel comic villain and an enemy of Spider-Man, Deadpool and a few others.
History
Little has been revealed about the origins of the Headsman. All is really known about him is his name; Cleavon Twain. He was equipped with technology devised by Norman Osborn so that it could be tested in the field, even though the Headsman never knew who his employer was. Osborn sent the Headsman to Benson's Department Store where Spider-Man was fighting the Enforcers so that he could help them escape capture. Headsman eventually became an enemy towards Deadpool when he joined the Dark Reign Thunderbolts.
Ad blocker interference detected!
Wikia is a free-to-use site that makes money from advertising. We have a modified experience for viewers using ad blockers

Wikia is not accessible if you've made further modifications. Remove the custom ad blocker rule(s) and the page will load as expected.