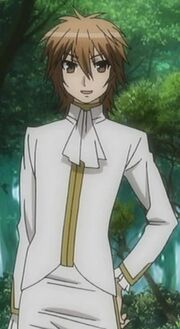 Hayato Mikogami
is a secondary villain in the anime series
Sekirei
and
Sekirei: Pure Engagement
also known as the Ashikabi of the South. He is a 15-year-old eccentric, exceeding wealthy, spoiled, cruel, and cunning young man who seeks out Sekirei and  forces them against their will to emerge just so he can increase the number of Sekirei under his control. This is shown when he forcibly attempts to wing a young Sekirei named Kusano and sends his own Sekirei after other unemerged Sekirei (i.e. Shiina, Homura, etc.) to bring them to him,but fails to do so. This results in the majority of his Sekirei getting terminated by the end of the second season.
Ad blocker interference detected!
Wikia is a free-to-use site that makes money from advertising. We have a modified experience for viewers using ad blockers

Wikia is not accessible if you've made further modifications. Remove the custom ad blocker rule(s) and the page will load as expected.