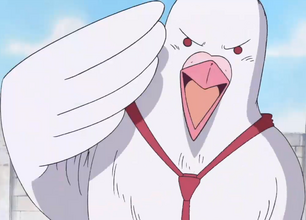 Hattori is Rob Lucci's pet pigeon.
Why Hattori is with Lucci is unknown considering the man's reputation as a heartless mass-murderer, though Lucci has had him since he was a child. He apparently is not afraid of Lucci and is very loyal to him, as he stays close to his master even in dangerous situations like the Buster Call. He even attemped to bandage him after his fight with Luffy. When Lucci is not fighting, Hattori is usually perched on his master's right shoulder.
Lucci would have had to express some emotions to blend in with citizens while undercover, but Hattori did this for him as his ventriloquist dummy; this allowed Lucci to be somewhat sociable while at the same time remain emotionless. While Hattori reverts to being an ordinary pigeon after Lucci was revealed to be an assassin, he occasionally exhibits human traits such as drinking from a cup.