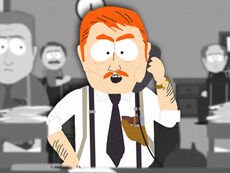 The police sergeant Harrison Yates is a minor character from the animated series South Park. Even though he is not a true villain, the show in itself has a remarkable villainy in their corruption.
He is the police chief of South Park. He runs an entire station full of corrupt cops, and apparently has some grudge against any black man wealthier than he is. So he (and the rest of the South Park police) organize them to be framed for bogus crimes by planting evidence. He doesn't seem to give a damn whenever there's any real crime in South Park. In "The Jeffersons" he even tried to have Michael Jefferson/Jackson arrested, and only decided not to when he found out Mr. Jackson was going to give away all his money.
Ad blocker interference detected!
Wikia is a free-to-use site that makes money from advertising. We have a modified experience for viewers using ad blockers

Wikia is not accessible if you've made further modifications. Remove the custom ad blocker rule(s) and the page will load as expected.