Harpoon is a member of the team of mutant hunters known as the Marauders.
History
Not much has been revealed regarding the early life of the Inuit (Eskimo) mutant known as Harpoon. The details of his recruitment by Mister Sinister to the group of assassins known as the Marauders remains similarly unrevealed. Relentlessly deadly and fiercely devoted, Harpoon invaded the Morlocks´ underground tunnels in New York City, intent on wiping out their entire population. Despite fierce resistance from the X-Men, they were merely distractions from the task at hand. While the other Marauders murdered Morlocks, Harpoon plunged his spear into Angel´s wings, necessitating their later amputation. He also caused Shadowcat to become trapped in a phased state and seriously injured Colossus, temporarily preventing the mutant´s body from turning back into flesh from its steel form. During the demonic invasion of New York, Harpoon was killed in a conflict with the X-Men, but resurfaces again like many of the killed Marauders, presumably as a clone created by Mister Sinister.
After M-Day Harpoon was depowered. He was shown again with the Marauders and fought with just a single harpoon.
He later joined the Marauders gathered by Da'o Coy Manh against his will as the others, and attacked the X-Men. He was eventually found dead, having killed each other with Arclight.
Television History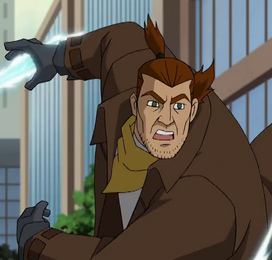 Harpoon is one of the Marauders. He was spotted by Cyclops in the streets and fought him. He claimed that he knew where Jean was but as Emma scanned his mind, she discovered that he did not know any information about it. The X-Men then discovered that he and Blockbuster were about to meet Arclight to submit DNA samples. After being captured, he was turned in to the M.R.D..