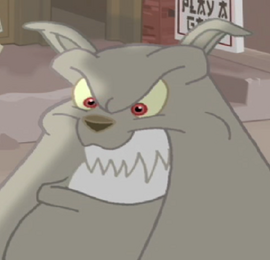 Happy Fluffy Kittyface is the villain from the Faux Paw the Techno Cat series.
Personality
Kittyface is a menacing gray bulldog with a gravelly voice who delights in terrorizing Faux Paw. This ranges from tricking her into spending time on games above reality and cyberbullying to attempting to capture and kill her when she refuses his offers. Kittyface will fight tooth and nail to achieve his goals, but at the end of each episode, he is outsmarted by Faux Paw and her friends.
Trivia
Kittyface is voiced by Stan Elsworth.