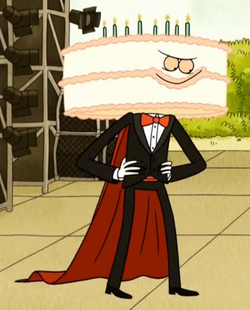 Happy Birthday is the main antagonist of the Regular Show episode "Happy Birthday Song Contest".
He was voiced by Kevin Michael Richardson who voiced the Pig Sheriff in Samurai Jack.
Even with this extra help Rigby receives his form in the mail and sees he didn't get that scholarship to College U, he goes to Mordecai's house before he gets there and sees whether or not he made it to College U.
Rigby finds Mordecai's form and sees he did make it to College U. Ross and Future Mordecai fight against the present park rangers and distract them long enough for Young Mordecai and Rigby to create the Timenado.
After the Timenado is created, Ross makes Rigby to admit what happened with the College U scholrships. Rigby chooses to pick up the plutonium in order to destroy the Timenado even though he doesn't have a protective suit. Mordecai helps Rigby with the plutonium to prove their friendship and carry the plutonium together.
Ross comes back to life healing from his neck injury. Ross confronts the duo preparing to fight them once more.
Appearance
Happy Birthday is a tall, lanky man with a birthday cake for a head, who wears a classy looking suit with a red cape.
External Links