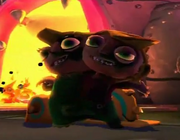 Hansel and Gretel
act as a boss encounter in the video-game "Fairytale Fights" and are re-envisioned as a conjoined-twin like monster that is faced in the Candy Castle.
Hansel and Gretel first appeared when they were hypnotized by the Pied Piper and were lead into the Candy Castle along with other children. In the furnace room, they attack the player-controlled hero and must be continually thrown into an open furnace in order to harm them. When defeated, the monster stumbles back into the furnace, catches fire and charges out of the furnace at the hero, but is tossed once again into the furnace, which causes the glass container on top to shatter and flood the area with molten chocolate.
Ad blocker interference detected!
Wikia is a free-to-use site that makes money from advertising. We have a modified experience for viewers using ad blockers

Wikia is not accessible if you've made further modifications. Remove the custom ad blocker rule(s) and the page will load as expected.