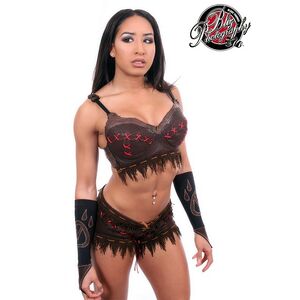 Hania is a villainous professional wrestler competing in the Women Superstars Uncensored promotion.
Hania began her stint in WSU as a masked wrestler named Saturyne, but she would begin competing as Hania at the Blood and Thunder event in October 2013, where she defeated Cherry Bomb. She would lose back-to-back matches to Jenny Rose, and it was during a series of matches against Athena that Hania's villainous side began to come out. Hania lost the first match to Athena at Resurgence in September of 2014, but she would win the rematch at Breaking Barriers III on November 8. A TLC rubber match took place between the two at WSU's 8th Anniversary Show on February 21, 2015, and during the match, Hania would become hellbent on destroying Athena. However, Hania would be defeated by Athena, and after the match, the two women embraced each other in a show of respect. Once Athena's back was turned, the evil Hania attacked Athena with a steel chair, turning Hania into a villainess. Hania continued her attack to Athena and verbally snarled at the fans in attendance before leaving the ring.
Hania explained her villainous turn at WSU's Power event on May 9 before she was confronted by Athena. Later in the event, Hania competed against Brittany Blake in the first round of the Spirit Championship Tournament. Hania laughed evilly as she viciously decimated Brittany to show off her new evil side, even preferring to continue destroying Brittany instead of defeating her. While Hania was arguing with the official, she was rolled up and pinned by Brittany, and left furious after the loss.
Gallery