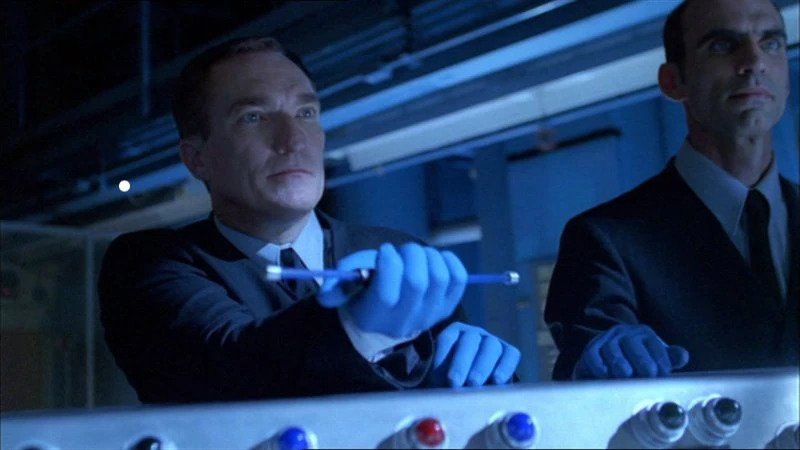 The Hands of Blue are the individual contractors to the Alliance. They are the closest the Firefly series has to a main antagonist. They are never referred to by name, only by River as the "Hands of Blue". Many have
called the individual members "Hands of Blue 1" and "Hands of Blue 2".
The Hands of Blue are two mysterious men with blue gloves. They are most directly involved in the Alliance's darkest secrets and their biggest operations. Their objective was to find River Tam and her brother, Simon, to prevent them from discovering and revealing what River knew; that the Alliance inadvertently created the Reavers, which the Alliance did not want anyone to know, in order to seem the perfect government to its subjects.
Jayne briefly decided to turn on the crew of the Serenity in the episode Ariel; he called the federal agents, led by Agent McGinnis, in order to receive a reward, when Simon was on the planet Ariel to find out what the doctor at the Alliance's academy did to River. The Hands of Blue arrived. When they found out that McGinnis talked to River, Hands of Blue 1 used a sonic device, causing McGinnis to bleed from the nose, eyes, and mouth, eventually killing him. He killed another federal officer this way when he saw that he was still alive and merely wounded, showing how evil they were by killing their own men.
Eventually, in the comic Serenity: Those Left Behind, they teamed up with the former federal agent, Lawrence Dobson, who wanted revenge on Malcolm Reynolds for shooting him in the eye, which he and the other crewmembers believed to have killed him. They attempted to find Simon and River while Dobson attempted his revenge, but was killed when Malcolm shot him in the head. The Hands of Blue approached Serenity in their ship, but the entire crew got on board and when Wash took off, Mal told him to "step on it", so that Serenity's jet flare hit the ship directly and incinerated the Hands of Blue, leaving only their skulls.
Following their deaths the Parliament sent the Operative to find Simon and River.