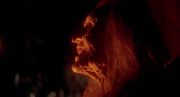 Haggis 
is a villain in the 1988 horror movie
Pumpkinhead
.
She was played by Florence Shauffer.
Appearance
When Harley's son is killed in an dirt bike accident, he seeks out a witch named Haggis, who tells him that bringing the dead back isn't within her power. He then decides he wants vengeance and Haggis agrees to aid him, but warns him that what he wants will come with a horrible price. She sends him to an old graveyard, in the mountains and digs up a dark corpse. When Harley brings the dark creature back to Haggis's house, she uses the blood from Harley and his son to resurrect the creature, which rises as the huge, evil demon Pumpkinhead.
After Pumpkinhead leaves and exacts Harley's revenge, she says to Harley he can go now and now it begins. While Harley is burying his son he sees the murders of Steve and Maggie, through Pumpkinhead's eyes. Harley fearfully returns to Haggis's house and tells her to stop Pumpkinhead but she says she can't do nothing and that he is a fool. She also says that if Harley gets in the way of the demon he will also die. At the end of the movie, Haggis buries the corpse of Ed Harley in Pumpkinhead's grave.