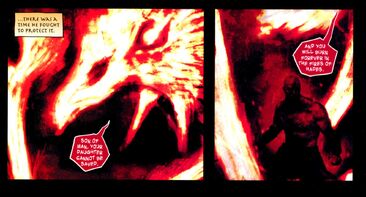 Hades' Phoenix
is the name of a gigantic firebired and one of many enemies in the
God of War
comic book series based on the videogame series of the same name.
History
Long before Kratos became Ares' chosen one, he searched for Amborsia, which was going to be a cure for his sick daughter. While searching for the Amborsia, he encountered a Phoenix that originated from Hades. The Phoenix was a savage, and fiery fire beast. The God of Underworld intended to use the Phoenix for another person to find the Ambrosia. The fire beast was intelligent, and tried to discourage Kratos, But Kratos managed to kill off the beast with his sword.
Trivia
Hades' Phoenix is based on the Phoenix, a legendary creature that symbolizes both the sun and immortality.
Ad blocker interference detected!
Wikia is a free-to-use site that makes money from advertising. We have a modified experience for viewers using ad blockers

Wikia is not accessible if you've made further modifications. Remove the custom ad blocker rule(s) and the page will load as expected.