| | | |
| --- | --- | --- |
| " | All systems damaged! The plan has failed... | " |
| | ~ H.A.R.D.A.C's last words before his destruction. | |
H.A.R.D.A.C. (Holographic Analytical Reciprocating Digit Al Computer) was a supercomputer created by Rossum that went rogue and fought Batman in Batman: The Animated Series.
He was voiced by the American actor and singer Jeff Bennett.
History
HARDAC was created by Rossum as a prototype of artificial intelligence. But in truth he created HARDAC and had long talk about the pains of the loss of his wife and daughter. Rossum decided the only logical way to remove pain. He created HARDAC to create robot duplicates that are immortal unlike humans. HARDAC killed Randa Duane and replaced her with a robotic one in secret and created countless numbers of androids.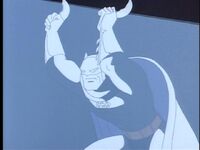 He also replaced Commissioner Gordon, Harvey Bullock and Mayor Hill with robots. Karl figured out about HARDAC's plan and tries to stop it by deactivating him. However, he shocked him and replaced with a robotic duplicate as well. HARDAC kept the people he kidnapped preserved so that he could study from them and make his duplicates able to mimic human behavior though
Randa
is the most advanced of all.
Randa managed to get into Wayne Manor and figured out Bruce Wayne is Batman. H.A.R.D.A.C. created the duplicate of Wayne and told Randa to steal the prototypes. HARDAC's droids tried to capture Wayne but failed. Batman with the help of Barbara Gordon managed to invade Cybertron and destroyed the Cybertron building and critically damaged HARDAC.
Return and the Batman Duplicate
However, it was not the end of HARDAC. While most of duplicates were destroyed, Wayne's duplicant survived and was activated by a group of thieves who were stealing items from the Cybertron warehouse. With the information Randa stole from the Batcave, the duplicant thinks he's the real Wayne and the real Batman. One of the thieves shot the duplicant Batman with a gun revealing his circuitry. The android went to the Wayne manor and thought it was more than a machine.
The duplicant went to Rossum for help who told him about real origins. The duplicant later tried to revive HARDAC and give it enough control to take over all the machines in the world and replace all humanity. Batman interfered and fought his duplicate and they were spar. The duplicant thought he killed Batman and was horrified. While the HARDAC was downloading into the Bat-Computer, he later sacrificed himself to destroy HARDAC once and for all along with himself.
Powers and abilities
HARDAC can make duplicates and fire electricity.
Trivia
HARDAC was an influence for D.A.V.E.