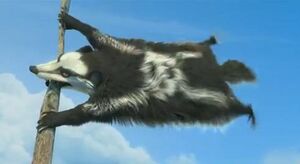 A Bengali badger, he is
Captain Gutt's crew
member and the flag of the ship, he is extremly useful as a flag and fellow pirate. He serves as the tertiary antagonist.
History
He has remained on the flag while holding on with his teeth and claws to show the pirate symbol on his back, hardly ever fights and has consently been used as a flag. In some point in the movie, he helps his allies against the Sub-Zero Heroes and is more fearless than Squint.
Personality
He shown to be crude, cocky and a bit taller than Squint, only fight when he knows his crewmates will win and thinks he's as tough as Raz. When scared, showing his white underbelly too early.
Trivia
In Scrat's Crack Up part 2, seen holding on a tree pole and displaying the pirate symbol.
He was voiced by Kunal Nayyar, same actor from the TV show Big Bang Theory.
He is good at playing bones like flutes.
Ad blocker interference detected!
Wikia is a free-to-use site that makes money from advertising. We have a modified experience for viewers using ad blockers

Wikia is not accessible if you've made further modifications. Remove the custom ad blocker rule(s) and the page will load as expected.