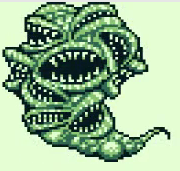 Guha
is a villain from SaGa III/Final Fantasy Legend III and the first "Master" that is faced by the heroes of the story, like the other "Masters" this monster sought to conquer the world via mass flooding, manipulation and general depravity - the heroes encountered him after they had went in search of the former captain of the mystic-vessel Talon and found Guha and the captain engaging in an argument, with the captain questioning why the "Masters" had to destroy other worlds while Guha argued it was not his choice to make and that it was the will of Master
Xagor
, however Guha stated that if the captain was in opposition to Xagor's plan he would have to stop him: the heroes intervene to save the captain and Guha is shocked that people were opposing its will and engaged the heroes in battle.
After defeating Guha the heroes gain the captain (named Buzi) as an ally as well as the first mystic sword: Durend.
Ad blocker interference detected!
Wikia is a free-to-use site that makes money from advertising. We have a modified experience for viewers using ad blockers

Wikia is not accessible if you've made further modifications. Remove the custom ad blocker rule(s) and the page will load as expected.