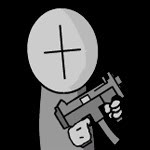 The
Grunts
are the weakest enemies of the
Madness Combat
flash series and the most untrained soldiers of
A.A.H.W.
They are also the most simple in appearance with no accessory items and are frequently unarmed or wielding melee weapons. They mainly appeared in episodes 1-4, after which the
1337 Crew
became the more common enemies. At least one grunt has appeared in every episode of Madness Combat.
Ad blocker interference detected!
Wikia is a free-to-use site that makes money from advertising. We have a modified experience for viewers using ad blockers

Wikia is not accessible if you've made further modifications. Remove the custom ad blocker rule(s) and the page will load as expected.