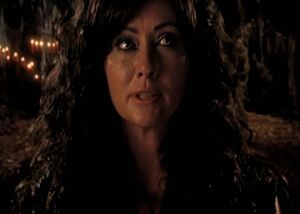 Gretl is the titular main villainess from the 2012 SyFy Channel film, Witchslayer Gretl.
She was played by Shannen Doherty.
In this adaptation of the Hansel and Gretel tale, Gretl was believed to have perished when she and Hansel fought the Witch Queen, with Hansel burning the queen alive. Unbeknownst to Hansel, Gretl turned heel and became possessed by the Witch Queen, and after becoming a villainess, she went on a mission to find a new and more powerful vessel. Gretl sent her warlock henchman to kidnap a young witch named Ehren, but he was thwarted by Hansel and Lara. However, the villainous Gretl did manage to capture Hansel, and used his shock as seeing his sister possessed to taunt him. Gretl later tortures her henchman after she learns that he informed Hansel that Gretl's soui is in the queen's original burned body, and in the meanwhile, Hansel manages to free Gretl from the vessel and place her back in her own body.
Gallery