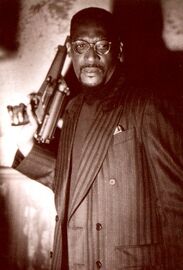 In the film The Crow, Grange is a mobster who is also a bodyguard for Top Dollar's and follows him every where Eric attack at Top Dollar place and escapes with him and Myca. They find out Eric's weakness and they kidnapped Sarah and Eric comes to save her. Albrecht kills Grange in the shootout. He is played by Tony Todd.
Gallery
Ad blocker interference detected!
Wikia is a free-to-use site that makes money from advertising. We have a modified experience for viewers using ad blockers

Wikia is not accessible if you've made further modifications. Remove the custom ad blocker rule(s) and the page will load as expected.