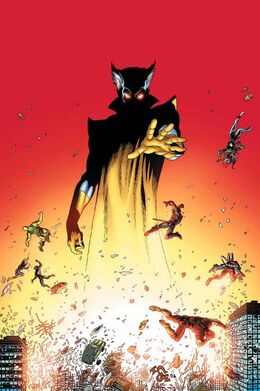 The Grandmaster is a supervillain from Marvel comics and a godlike alien who is immortal and obsessed with games of chance - he is a master manipulator of the highest order and often pits groups of heroes and villains into battles or puzzles as part of large-scale cosmic bets and challenges.
History
Grandmaster was part of the Elders of the Universe - godlike beings that represented the eldest species of the universe, they were also largely sole survivors of their respective species and had cosmic powers comparable to beings such as the Watcher.
Like all Elders Of The Universe the Grandmaster is kept immortal only due to his fixation on a particular subject: in his case games of chance - if he should lose interest in his obsession he would weaken and die, he alongside a number of his fellow Elders attempted to kill Galactus at one point, theorising that in his death they would be reborn as gods in the new universe (despite already having semi-godlike powers): their plan was foiled by the Silver Surfer and several other heroes.
Marvel Cinematic Universe
The Grandmaster will appear in the forthcoming Marvel movie Thor: Ragnarok and be played by actor Jeff Goldblum.
Gallery
Ad blocker interference detected!
Wikia is a free-to-use site that makes money from advertising. We have a modified experience for viewers using ad blockers

Wikia is not accessible if you've made further modifications. Remove the custom ad blocker rule(s) and the page will load as expected.