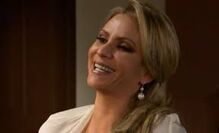 Graciela De Mendoza is the secondary antagonist turned anti-heroine in the 2013 Telenovela Lo Que La Vida Me Robo (What Life Took From Me, in English). She is also the mother of Montserrat De Mendoza, the novella's deuteragonist, and Dimitrio De Mendoza, a minor antagonist turned supporting protagonist.
History
A few years before Lo Que La Vida Me Robo began Graciela's daughter, Montserrat, was in a relationship with Jose Luis, the novella's tritagonist. However instead of being happy for her daughter, she was angry at her for picking a man like Jose Luis. She was not happy with them being together, but she still let them date, thinking that relationship doesn't have a future. However, Jose Luis and Montserrat ended up being engaged, and that's were Graciela drew the line. She doesn't allow them getting married. Thus Jose Luis left for a few months, hoping to get his mind off Montserrat. Montserrat on the other hand couldn't get her mind off Jose Luis and thought she will never find true love again, until she met Alejandro, the novella's main protagonist, which led to the start of Lo Que La Vida Me Robo.
Trivia
She is portrayed by Daniela Castro, who is mostly notable for portraying Secondary Protagonist's/the love interest in Telenovelas.
It is unknown why she didn't want her daughter to date Jose Luis.

Its most likely 'cause Jose Luis was a police officer, and that would put in danger her daughter.

Its possible that she also fell in love with Alejandro which could mean that was the reason she allowed Montserrat to be with him, so she can also be closer with him.
In the final episode she tried to commit suicide, but it didn't work and now lives on the streets.