Ad blocker interference detected!
Wikia is a free-to-use site that makes money from advertising. We have a modified experience for viewers using ad blockers

Wikia is not accessible if you've made further modifications. Remove the custom ad blocker rule(s) and the page will load as expected.
Glumps
are the naughty, fiendish helpers to the sinister
Dr. Strangeglove
(Lavender Troggs) who love to eat and steal cupcakes. There is a game called Moshling Boshling, much like Angry Birds on Main Street that everyone can earn Rox from, a type of money, where Glumps are trying to steal cupcakes from a Monster Couple. Dr. Strangeglove was the criminal mastermind who created these Glumps using a powerful machine. Glumps are really Moshlings that have been turned into glumps by that same machine. Glumps can also be very cheeky, trying to stop Super Moshis from saving moshlings or Monstro City. Recently, Dr. Strangeglove and the Glumps produced a music video about themselves by using Simon Growl's music equipment! You can find more at
www.moshimonsters.com
  for more information about it.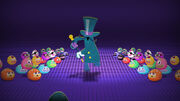 These are the Glump's names and pictures in the gallery below. For more info, go to their page in The Daily Growl.
Bruiser
Bloopy
Black Jack
Freakface
Fishlips
Fabio
Pirate Pong
Ned
Mustachio
Squiff
Rocko
Podge