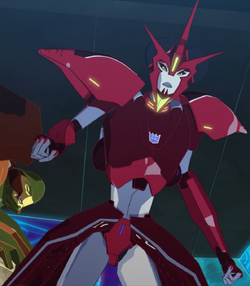 Glowstrike is firefly-like Decepticon in Transformers: Robots in Disguise.
History
Glowstrike was one of the many Decepticons imprisoned aboard the Alchemor. When the ship crash-landed on Earth by Megatronus, she was freed from his stasis pod. Eventually she met up with Scorponok and they made up a group of Decepticons in the crashed Alchemor's back section. They sent them collecting supplies to get them off earth, mostly Kickback and Saberhorn. Glowstrike was disappointed with Saberhorn's performence, but Kickback accomplished his task of bringing back required materials. She told him it will serve, but when Kickback asked for a reward Glowstrike blasted at the latter to make him leave.
Gallery
Ad blocker interference detected!
Wikia is a free-to-use site that makes money from advertising. We have a modified experience for viewers using ad blockers

Wikia is not accessible if you've made further modifications. Remove the custom ad blocker rule(s) and the page will load as expected.