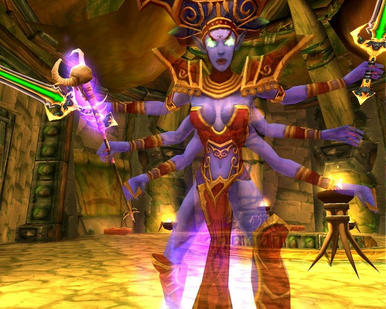 Giselda the Crone is a shivarra who leads the Nagrand sect of the Shadow Council in World of Warcraft. From the Kil'sorrow Fortress, Giselda and her servants commit murder, kidnapping, and burglay. At one point, both the Alliance and Horde put a bounty on her head for crimes. An adventurer stormed through the fortress and vanquished the demon and her minions.
Ad blocker interference detected!
Wikia is a free-to-use site that makes money from advertising. We have a modified experience for viewers using ad blockers

Wikia is not accessible if you've made further modifications. Remove the custom ad blocker rule(s) and the page will load as expected.